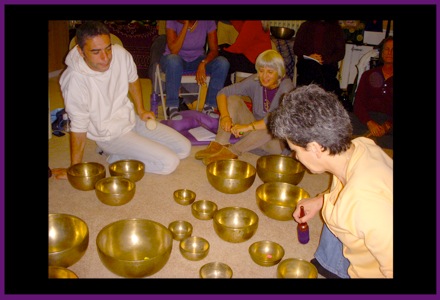 The Master Class Syllabus for certification on Himalayan Singing Bowls is a 2 part program, encompassing a 8 day installment and a 4 day. Students should be aware that days are long, and there are short evening programs that end at around 9pm. It's important that you get your needed rest each night. The classes begin at 9:30am, a 2 hour lunch and a 2 hour dinner break is scheduled each day. Which means that the retreat begins at 9:30am on the first day, and ends at 9pm on the last day, so please arrange your travel plans accordingly.

Students who complete the program will be eligible for the returning student benefit, and receives the 11 x 14 inch certificate, embossed, with a space for the student's image. They also will receive Mitch's quarterly digital newsletter.

The cornerstones of this program is information on all aspects of Singing Bowls, Demonstrations, Mentoring, and Inspiring you to be the most effective practitioner with these tools of transformation. We cover numerous areas both scientific and academic as it pertains to Sound Therapy, and then wrap them around the Singing Bowl. This gives you a strong foundation in Sound Therapy, and at the same time, focuses this on your use of the Singing Bowl. That's why students who engage this program are more well rounded and miles apart from other students who train with others.

Beginning in 2013, the Certification program will be divided into 2 parts; a 8 day retreat format and a 4 day. The 8 day segment encompasses Philosophy and Science, Utilization and Application parts. The 4 day segment encompasses the Instructor Mentoring and Substantiation parts. This allows the student ample time between, to work on their techniques and practices, before they come to the 4 day retreat.
Click Here for this year's Faculty
Click Here to Learn More About Mitch's Singing Bowl Studies
Click Here to Access Mitch's Teaching Schedule
Return to the Lodging and Travel Page
Return to the Registration Page