September 13,2003 10am-5pm
The Ghanta and Vajra ( dril-bhu & dorje) are regarded as the tools of wisdom and compassion. Westerners call them Tibetan singing bells, and many people own them but know very little about them. Mitch has been playing and using Ghantas for over 28 years and is regarded as an authority on these instruments. The culture and history of the Himalayas will be examined through these tantric ritual items, and bells will be distributed to the class, so everyone can experience them first hand.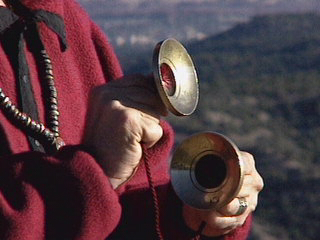 Tingshas
Tingshas are the ritual cymbals of Buddhism, but most people have no idea that they are a diagnostic tool used for evaluating the human body. Learn this technique from a Master who learned this procedure 28 years ago in the Himalayas. Sound and Vibration healers, Shamanic, Reiki, Feng-Shui, and energy practitioners are strongly urged to attend.
Cost for this workshop is $75
Please bring a bag lunch, bottle of water, notebook, and a pad or blanket to lay on.
To register for this workshop, call 215/538-2708
VISA and Mastercard accepted