Experience the visionary sound tool of the great Incan Empire. This 3 hour class and journey introduces you to the historical, cultural, and shamanic uses of these sonic marvels. For over 2,500 years the Andean civilazations have produced earthenware, multi-chambered vessels. These vessels have been shown to produce sounds or whistles that are generated within the greatest sensitivity range of the human ear. When blown simultaneously, in specific numbers, a psycho-acoustical effect is created. These vessels are called 'huacas', a basic term denoting something sacred or holy. Mitch Nur has presented this class throughout the USA and presents a dynamic class with the vessels.
This class is limited to only 8 participants and sells out very quickly. You are strongly urged to register early for this opportunity to experience these vessels. No musical experience is required.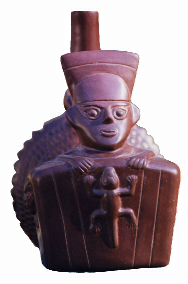 Click the Vessel to learn more about them
Spring Equinox Event
March 21, 2004 7pm-10pm
cost for this program: $50
VISA and Mastercard accepted
To register for this event, call 215-538-2708
Students should bring something comfortable to sit on.