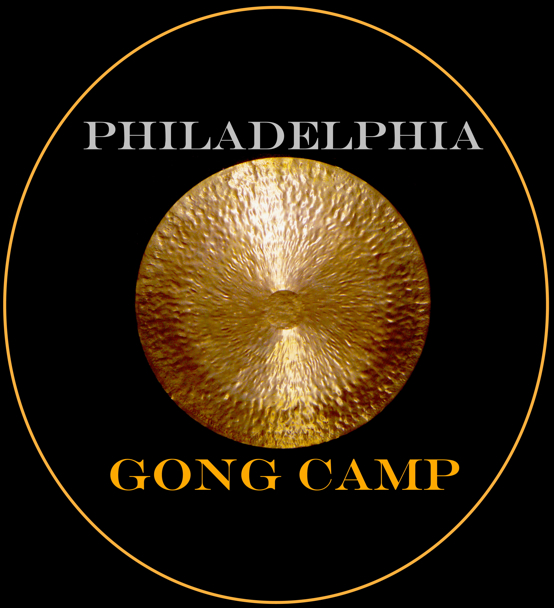 The Gong is one of man's oldest therapeutic instruments, and is used in yoga, sound meditation, and vibrational therapy from the distant past to present. The Gong is an ideal tool for stress reduction, stimulation of the glandular system, and as a facilitator to break up emotional blockages. This training program is meant to take you through the world of the Gong which makes this an ideal course of study for those who own Gongs, or are thinking of purchasing one. Aspects of this program will cover Gong styles and types, playing implements, stands, playing techniques including rub mallets, and more.

The basic structure of this syllabus is in 5 parts, with the first 2 representing all the basic and essential knowledge about Gongs, followed by 3 advanced workshops which penetrate the inner understanding of this most ancient of instruments. The program examines the tonal alchemy and metaphysical approaches with an emphasis on how to use the Gong's frequency domains as a psycho-acoustical entry point for shifting consciousness. The Gong technician who can reach a place of non- conceptuality and locality can use the Gong as a wheelhouse to alter Time and Space.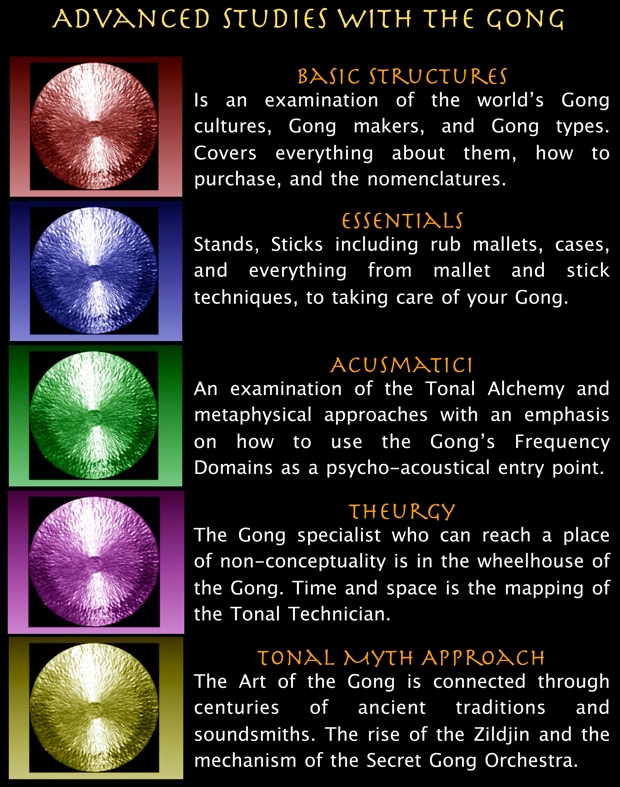 image by Marion Kraus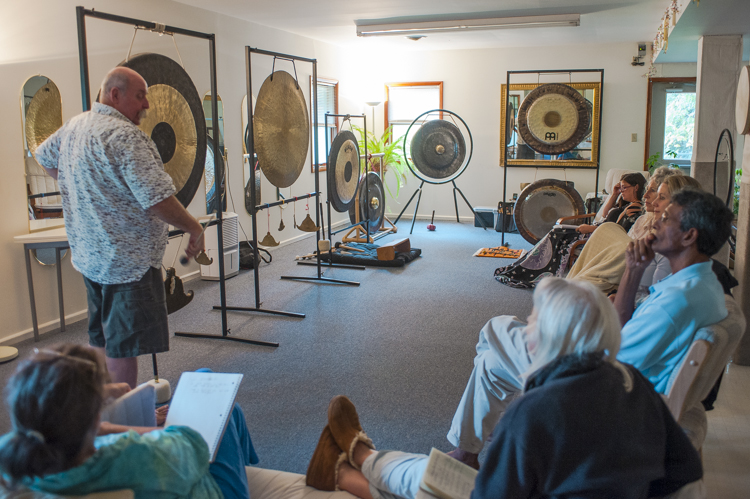 2012 Advanced Gong Studies with Mitch Nur, PhD
This program looks at all the ways the Gong can be used for Sound Therapy, Meditation, Yoga, live performance and personal practice. An examination of new gong products will also be reviewed. Ideal for all levels of experience. The program will showcase sound baths, and numerous demonstrations, meant to elevate your awareness in using this instrument in many applications.

Hosted by Mitch Nur,PhD who has been playing Gongs for over 4 decades and has a personal collection of over 50 hanging Gongs, and hundreds of resting Gongs from all the world's Gong cultures. He blends the science with the experiential which makes this a dynamic learning experience. Students will encounter a mentoring program that increases awareness, ability, and confidence.

The Art of the Gong is connected through centuries of old traditions and sacred tonal soundsmiths.

We will explore Chau Gongs, Feng Gongs, Heng Gongs, Meinl Gongs, Paiste Gongs, original Zildjin Gongs, Burma Bells, Ascending and Descending Opera Gongs, Bao Gongs, Xiang Jia Gongs, Nipple Gongs, Floor Gongs, Gongs from Indonesia, Turkey, Thailand, Vietnam, and rare Gongs from Nepal. Big Gongs to tiny Moon Gongs and glass Gongs. Every type and style. This is the world's most complete Gong program and advanced training syllabus PERIOD.
* UPDATE August 16th: We will have the entire MEINL line of Symphonic Gongs at this event- 24", 28", 32", 36", & 40". There will be special pricing on the 36 and 40, that will never be offered again. Steve Weiss Music, the official Gong supplier of the 9ways Gong Camp has made this possible, in addition, they have just received a shipment of Gongs from China which will insure a wider level of selection for those looking to buy a hand picked Gong after the retreat is over. We will also have on hand some of the rarest Gongs currently on the planet - Gongs from Nepal made from antique Singing Bowl alloy, including the largest Gong to ever come out of the Himalayas, a 40 inch! Steve Weiss has also managed to bring the best weighted Gong Mallet - Chalklin to the USA, and the prices are unbeatable. Chalklin makes each Gong mallet, one at a time, insuring the highest quality control. We are going to have on hand, twice the amount of Gongs that we had last year, making this the best Gong Camp ever, and a new standard in serious Gong training.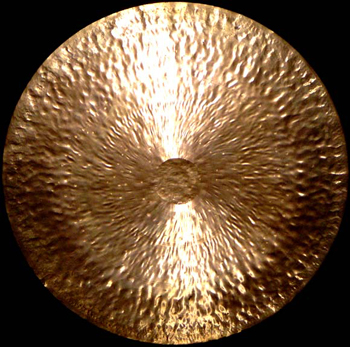 October 3-6, 2013
Program Tuition: $649
Inquire About Lodging Options
Tuition Does Not Include Lodging
Click HERE for the Registration Form

2011 Advanced Gong Studies
Students that wish to pursue this area of study should email the Academia. This syllabus is intended for students that require a serious and direct experience and want to go beyond the non traditional approaches that are presently being offered by others. Playing the Gong is much more than just hitting it, why not attend a mentoring program that not only accelerates your learning and ability, but elevates and inspires you.

On October 7th we will visit Steve Weiss Music for students that are interested in purchasing a Gong. Discounts will be offered on Gongs, Stands, Mallets, etc. Steve Weiss Music imports more Gongs than any other dealer in the USA. Steve Weiss Music is the exclusive Gong supplier of the 9ways Academia.
9ways Academia: (267) 374-2785