MASTER CLASSES with Himalayan Singing Bowls are hosted by STUDIO 116 in Quakertown, PA. They are presented by Mitch Nur, PhD, Principle Founder of the Sacred Sound Workshop and the Sacred Sound Retreat. Founder of the 9ways Mystery School of Shamanic Studies, Vice President of Bon Shen Ling, Shamanic Sound Therapist, academic lecturer, and explorer.

These programs represent the academic, cultural, historic, and spiritual examination of Singing Bowls, coupled with a mentoring experience intended to boost the student's skills and knowledge.

This website is intended to provide all the information you need to know coming in. What to bring, where to lodge, etc.

Quakertown is located in the southeastern corner of Pennsylvania between Allentown and Philadelphia in upper Bucks County. Studio 116 is located in the antique district of Quakertown, 1.5 blocks East of the train tracks downtown. Parking is located behind the Studio or metered street parking out front ( FREE on Sundays ). The Studio's phone number and message center is 267-374-2785. DO NOT USE MAPQUEST TO MAP DIRECTIONS TO THE STUDIO

Lodging is available at local hotels and even an inexpensive international hostel. All hotels are within 10 minutes of the Studio, including the hostel, which is a turn of the century Manor House located well off the road and in the woods. The closest hotel is the Best Western. Here are the links for lodging:
Weisel International Youth Hostel
There is also the option of staying in 2 apartments at Bon Fyre Yoga Studio in Elephant, PA, which is just 10 minutes from the Studio. The apartments have multiple sleeping options, including kitchens (vegetarian cooking only), living room, etc. They are very reasonably priced (cash or personal check only) and comfortable. Check for availability with Michele at Studio 116.

One other option is a Bed & Breakfast located about 12 minutes from the Studio, The Old Bethlehem Road Hotel (OBR to the locals, formerly Arianna Miles). They have 5 rooms available, here is a link to their website:
Click here for the Old Bethlehem Road Hotel
Things like restaurants, supermarkets, drugstores, and gas stations are all within a couple of blocks of the Studio. A local map of the area is also available. The nearest AIRPORT is Lehigh Valley International, Philadelphia's airport is approx. 1.5 hours away. Here are the links to those 2 airports:
Lehigh Valley International Airport
Philadelphia International Airport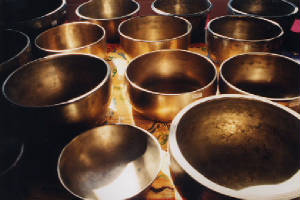 LEVEL 2 Information: Students should bring notebook, pens, waterbottle, and camera. There is NO tape recording. It is not necessary to bring bowls with you, however, the Studio has a large selection of genuine antiques for sale, so if your looking to match something to your own personal bowls, you may want to bring them. The Level 2 is the academic examination of Singing Bowls, prepare for a lot of note taking.

LEVEL 3 Information: Students are encouraged to bring their own Singing Bowls for the Utilization and Application part of this program. This program is all about gaining experience, through demonstrations and guidance. Another aspect is to see each students ' tools of use '. Singing Bowls that do not sing together, simply are not effective as a set that does. Mitch will evaluate each student's sound tools. Students that have graduated through Mitch's program are invited back to show how they do sessions to the new students presently engaged in the program. These are valuable demonstrations, and very helpful to see what other's are doing.

LEVEL 4 Information: Mitch will personally show techniques, layouts, configurations, and perform actual session work. He has been doing this probably longer than anyone else in the world living today. This answer's the question " what and how does he conduct sessions?" Students receive their Certificates.

As a final note: Throughout the program, demonstrations are conducted by Mitch and some of his other students. There are also special guests that may show up. Each Master Class program is a little different than the others, and unique to the students that are in the class. Student mentoring is conducted throughout all Master Class levels. Audio Tape, Film, Video, Telephone Recording is not permitted. Students are encouraged to take STILL IMAGES only. Studio 116 has a wide selection of genuine antique bowls in their inventory for sale. Students looking to add to their collections are encouraged to come in early to evaluate bowls. There is NEVER any pressure to buy, and students should not feel obligated to make any purchases.
Mitch's Teaching Schedule Website