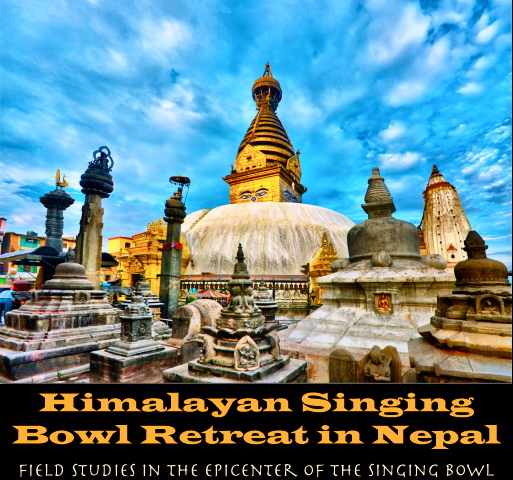 Plans are now underway for the first academic Singing Bowl retreat to be held by the West in Nepal. Hosted by Mitch Nur, PhD, senior instructor of the 9ways Academia, and the leading authority on Singing Bowls in the world today.
The retreat will be held in mid March 2014, and our working dates at this time are from March 15th through the 24th; early Spring in the Kathmandu Valley, warm days, cool nights. The outline for the retreat will be posted soon, but the preliminary plans are to spend 9 days at a Kathmandu Valley retreat center, and to hold workshops at the retreat center with invited guests. We will meet with local authorities in the Singing Bowl culture and trade, immersing ourselves in the traditions of Nepal. We will visit Singing Bowl factories to see how Singing Bowls are made, and to visit shops that still sell antiques. This is truly a once in a lifetime experience. Here is a preliminary sketch of the proposed trip: Every other day will be spent visiting cultural sites significant to creating a better understanding of the Nepalese Singing Bowl culture, including Singing Bowl shops and factories, the ancient nearby Malla cities of Patan and Bhaktapur, including Boudhanath and Swayambhunath; and every other day hosting programs at the retreat center with local authorities in the Singing Bowl trades.
The Retreat costs are reflected 2 ways: Students pay their own airfare in and out of Nepal. If you book early, you can fly for discounted rates. Once on the ground in Nepal, your retreat fee will cover all expenses including travel. * excludes travel to and from the airport, however, we're working on this with the retreat center itself.
If you are interested in joining us in Nepal, please use the email link below.
* * Prior to the retreat in Nepal, Mitch Nur, PhD will be a featured speaker at the Sixth International Music Healing Conference in New Delhi, India on March 8th and 9th. There is only a very limited amount of conference seats available. Mitch will also present a talk on Harmonic Therapy at the Nada Institute for Music Therapy on March 7th.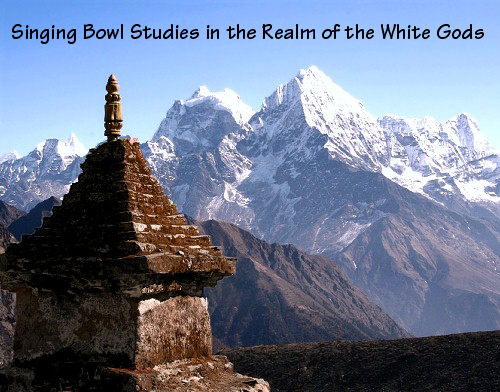 This website is currently under construction, and is updated as soon as details are confirmed. We are doing this so people can plan accordingly. Currently we are planning to stage this program at a newly constructed Ashram retreat center approx. 5Km from Thamel. We are waiting on the confirmation of the Kathmandu Valley retreat center regarding lodging and food costs. But this new, clean, center is out of the bustle and fog of Kathmandu, and is located close to everything we will be involved with in this program. Most of the other details have been firmed up including local authorities, planned visits to local Bowl factories, etc. Because of economic issues worldwide, and especially Nepal, where the economy goes back and forth from the Dollar to the Euro, firming up expenses has been a daunting task. Once we fix the date, students can begin researching airfare options.

We will also have direct access to one of the largest and most trusted export companies in Kathmandu. Students who wish to ship goods home can feel assured that purchases will arrive safe and in a timely manner.