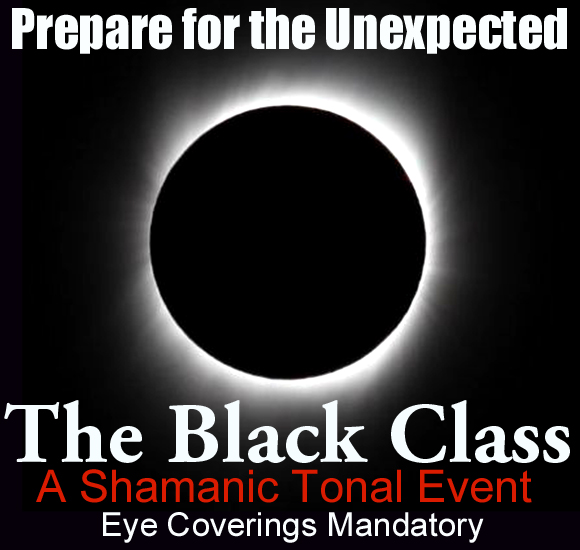 This is the legendary Black Class that was first held in Taos, New Mexico in 2004, and now returns to Andover. This program will literally take your breath away. Based on what the Bon/Buddhists call the Dark Retreat, you will be taken into a myriad of internal worlds, escorted by sound shapes that are presented live. This program has always sold out, everytime it is presented. If you have issues with being in the Dark, then it may be best to take a pass on this program.
Depending upon space availability, students may be able to lie on the floor, during the program.
What exactly is the Black Class ?
For centuries the compassionate teachings of the East have utilized the Dark Format of a retreat, as a way of shifting students into a new awareness. These retreats can be as short as 3 days, and in some cases, weeks, months, or even years. This program is designed to initiate a shift in awareness, and to take the student beyond the confines of normal Western thinking parameters. You will be using the 'eye' of the mind, in place of our eye and optic nerve channels. There is a difference between 'looking' and 'seeing'. And the Black Class is one way in attaining a new level of inner awareness. Coupled with a 'live' soundtrack created with ancient indigenous instruments, and ceremonial pieces associated with Sacred Sound applications; students will now have a freedom to shift, without the confines of restrictions, due to discursive thought and sight with the eye. This program is designed for the serious practitioner, at whatever level they may think they are. For some students, this is the next logical step, for others, it's a bold and dynamic step into serious training.
Within worldwide shamanic cultures, the use of darkness as a teaching aid, or operational environment is legendary. For those students who are involved in some form of shamanic training, the Black Class is an excellent complement to those studies.
Seating is Limited !
Presented and performed by Mitch Nur,PhD of the 9ways Academia. Dr. Nur created this program for his students over 30 years ago. He has himself, engaged in many dark retreats throughout his Bon, Buddhist, and shamanic training.
Space for this program is limited to just 30 students, register as soon as possible. Students are required to wear eyecoverings throughout the program. Students should bring a water bottle, a comfortable cushion if available, a blanket or wrap for those that may be susceptible to cold. This program will start at 7:30pm, please arrive 15 minutes early to settle in.
Saturday Evening
October 27, 2012
7:30pm
Circles of Wisdom
90 Main Street, Andover, MA 01810
978 - 474 - 8010
Click here for the Circles of Wisdom website
Click here to email Mitch Nur,PhD